Training partnership with University of Adelaide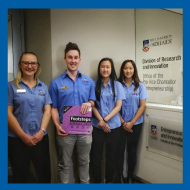 UK firm provides business acumen for Australian vets of tomorrow
Veterinary training and consultancy business, Onswitch, first established links with the University of Adelaide's School of Animal and Veterinary Science several years ago, with the launch of the company's customer experience training tool, 'Footsteps – the board game'.

Directly inspired by the principles of 'Footsteps', Dr Adele Feakes, senior lecturer in veterinary practice management, altered the business curriculum for her students, to centre on the game's customer journey. Onswitch has since hosted two intakes of Adelaide students into its rolling business extra mural studies (BEMS) programme offered to UK veterinary students, with plans for a study group of 10 to 12 Australian students in 2020.

Dr Feakes explains how the VEBE-OBP programme has come about. "I've worked with Onswitch for several years now and have seen the enormous benefits my students have received from spending time exploring the commercial side of veterinary practice – a crucial area. Rather than two students flying to the UK each year, with this new programme we are able to offer more of our University of Adelaide veterinary science students exposure to this key aspect of practice life."

In a novel development to the partnership, on Monday 9 September the University of Adelaide – ranked 43rd in the 2019 QS World University Rankings for veterinary science – launched a three-week Veterinary Entrepreneurship and Business elective incorporating the Onswitch Business Programme (VEBE-OBP) for the 2019 and 2020 academic years.

In 2020, the elective will be available in its Australian version as VEBE-OBP (Aus), and also in June as an overseas study tour. VEBE-OBP (UK) will incorporate the Cx Congress in Nottingham and the SCIVAC Congress in Cremona, as well as providing UK-based training content and support.