Mission Rabies team completes tuk-tuk challenge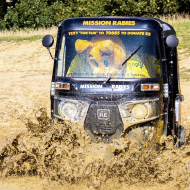 Funds raised will go towards emergency Thyolo appeal

A team from Mission Rabies has completed an off-road obstacle course in a tuk-tuk to raise money for the charity's latest emergency appeal.

The team pushed, pulled and manoeuvred a tuk-tuk around the Land Rover East of England Experience Centre last week. Located within the grounds of Rockingham Castle, the off-road course contains an array of challenging obstacles including water ditches, steep inclines and bridges.

Mission Rabies has been working in the Blantyre district of Malawi since 2015 and has all-but-eliminated child deaths from rabies in the region through targeted dog vaccination and education programmes. Expert teams in Malawi identified an urgent need to expand the project into Thyolo district, in the south of Malawi, where some 80,000 children of primary school age face the threat of dog bites.

The team aims to raise £10,000 to deliver a life-saving vaccination drive. This will enable them to vaccinate around 24,000 dogs in the region to cut the disease cycle and protect the 80,000 schoolchildren at risk from dog bites.

Writing on the charity's Facebook page, charity CEO Luke Gamble writes, 'Thanks to the support from people like you… WE MADE IT!! We pulled together and got stuck into every obstacle we faced. Thank you so much to Edd and the team at Land Rover Experience East of England - we couldn't have done it without you.

'We know we can continue to put this determination towards our projects and eliminate human deaths from rabies, but we need your help to do it! Let's get one step closer to a day when no one dies from rabies! '

To donate to Mission Rabies' urgent appeal, visit the charity's Justgiving page or donate via its website.
Image (C) Mission Rabies.