Police horses attend Liverpool graduation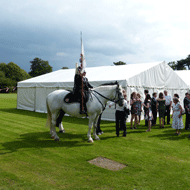 Merseyside Mounted Police stand guard at celebrations
Veterinary students, parents and staff at the University of Liverpool say they were delighted to welcome two police horses to their graduation celebrations last week.

Horses Major and Silver from the Merseyside Mounted Police section stood guard at the graduation in Leahurst on 16 July.

Professor Cathy McGowan, head of the department of equine clinical science, said: "Staff at from our Equine Practice and their final year student groups at Leahurst have been working with these beautiful horses every week for the past year and were delighted that the horses could come to their special day."

The university provides in-kind veterinary care and support to the Merseyside Mounted Police, as part of its 'Stand Tall' campaign.