'Relief' as circus bill passes final reading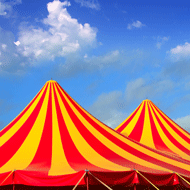 Wild animals to be banned in circuses from 2020
A bill to ban wild animals in circuses in England has passed its final reading in the House of Lords. It is likely to come into force in January 2020, after receiving royal assent.

Environment secretary Michael Gove confirmed the ban in May this year, seven years after the government first announced its intention to ban wild animals in travelling circuses.

Dr Ros Clubb, senior scientific manager at the RSPCA, said the charity is "absolutely delighted and hugely relieved" by the news.

She added: "The RSPCA has campaigned for decades for this practice to be outlawed, highlighting how the welfare of wild animals based in such settings is likely to be heavily compromised. The transient nature of circuses - alongside cramped accommodation and forced training for animals - highlights how inappropriate they are for wild animals.

"Wild animals like zebras, camels, raccoons and reindeer have complex needs that can never be adequately met in a circus. We believe their welfare is compromised with stressful, frequent journeys, cramped and bare temporary housing, forced training and performance.

"We are glad the practice of using wild animals in circuses is to be consigned to the history books in England at long last."

The bill will bring England into line with other parts of the UK, including Scotland and Ireland, which have already implemented bans. A bill was also recently introduced to the National Assembly for Wales.