Baby white rhino born to poaching victims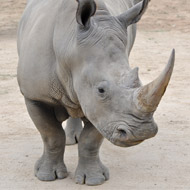 Parents saved by wildlife rescue charity Saving the Survivors

Conservationists have hailed the arrival of a baby white rhino as a 'huge victory' for the species, which is listed on the IUCN Red List as 'Near Threatened'.

The rhino (not pictured) was born to two rescued victims of poaching in Limpopo, South Africa. The mother, Lucky, sustained gunshot wounds to her shoulder while the father, Seha, received horrific wounds to his nasal cavity after poachers hacked out his horns.

Wildlife charity Saving the Survivors said the injury Seha suffered in 2016 is one of the worst poaching-related injuries known, especially since he survived the attack. Having treated similar injuries over the last seven years, the charity managed to persuade Seha's owner not to have him put down.
Rhino horn injuries pose a huge challenge to veterinary surgeons. Any wild animal mutilation has its complications, but the process is made even more complicated in situations like Seha's, where the wounds become infected and cannot be closed.

Saving the Survivors treat rhino horn injuries using human dressings covered with elephant leather. The leather is thought to contain the right moisture level and enzymes to aid recovery and acts as a bandage to keep the dressings in place.

Currently, the wounds take around two to three years to heal. But Saving the Survivors are working with colleagues in Europe to explore new methods and technologies, which will help to speed up the process. This includes the use of 3D scanners and printers to create facial masks.

While past victims of poaching-related injuries were often euthanised, Saving the Survivors have managed to save more than 65 per cent of the animals they have treated.

"The recovery for poaching victims like Lucky and Seha must address not only physical concerns but also psychological," the charity said.

"Re-introduction to other rhinos is an essential part of their recovery. The mating of two poaching victims is both a huge victory and a statement of their progress, as well as a promising sign of re-populating this near threatened species."