Injured marsh harrier found in Norfolk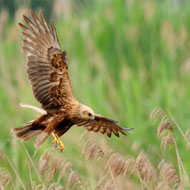 Photograph reveals bird had been shot
Norfolk Police are inviting members of the public to come forward with information after a male marsh harrier was found injured near Fakenham.

The bird was identified by a dog walker on the boundary of The Hawk and Owl Trust Nature Reserve at Sculthorpe Moore. Unfortunately, the dog walker was unable to take the bird to rescue, but he did take a photograph which revealed the bird had been shot.

The member of the public contacted staff at the nature reserve. But a subsequent search failed to find the bird; only broken down vegetation and a few feathers remained.

With the male marsh harrier having not been seen since, experts say his absence puts this year's chicks at risk as both parents are required to supply them with enough food. Police are now urging anyone with any information to contact Jason Pegden ((PC1257 - Wells SNT (C11), North Norfolk LDU) on 101.

Nigel Middleton, Sculthorpe Moor reserve manager, said "We hear of birds of prey being killed illegally so often. Illegal persecution is such a problem and it's inexcusable.

"Having it happen on our doorstep has come as a real shock. Marsh Harriers are the reason that Sculthorpe is a reserve. This is just horrifying. If anyone knows anything please let the police know. Let's bring this criminal to justice".

The Hawk and Owl Trust Nature Reserve recently announced the acquisition of more than 150 acres of land on either side of its existing 45-acre reserve. It is on the western side of the land, near Sculthorpe Mill, that the bird was found.

Once on the brink of extinction, the UK's marsh harriers have seen a rise in numbers in recent years, thanks to a ban on pesticides. The birds feed on rodents, birds, insects, reptiles, frogs and even, on occasion, fish.