Blowfly risk "High" across much of the UK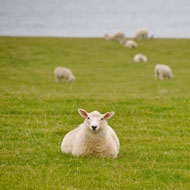 Farmers urged to be vigilant against this devastating disease

Risk levels for blowfly are "High" across much of the UK, according to the latest update from the National Animal Disease Information Service (NADIS) and Elanco.

The real-time update shows risk levels are high throughout East Anglia, the Midlands, South England, North West England, North Wales, South West England and South Wales.
Some locations are also showing as "Medium", including North West Scotland, East Scotland, North East England, South West Scotland and Northern Ireland.

"As we know, hot and humid weather creates ideal conditions for strike," said Richard Wall, professor of zoology and compiler of the Blowfly Risk Alerts. "Fortunately, the fly population is still relatively small because of the cool conditions in May. That will now start to change quickly."

"Strike risk will rise throughout July, spreading across the whole country. In particular, lambs and ewes that remain unsheared will be in jeopardy. We're entering the highest period of risk for blowfly. Being vigilant and prepared is essential."

Blowfly experts are now urging farmers to treat their flocks early in the year to prevent a build-up of flies and to reduce the devastating impact of blowfly strike.

Independent sheep veterinary consultant Dr Fiona Lovatt said: "Many farmers will wait and treat later due to perceived savings in treatment cost, but this is a false economy as the duration of efficacy for some products is so long anyway," she said. "Treating earlier in the year means a smaller lamb and so potentially a smaller dose, which is a genuine saving."

In April 2018, an Elanco blowfly study conducted in partnership with the National Farm Research Unit found that 99 per cent of farmers have suffered financial losses as a result of blowfly stroke. More than 80 per cent agreed that blowfly season is increasing, with strike cases being reported as early as February and as late as November.