Scientists discover chlamydia-free koala population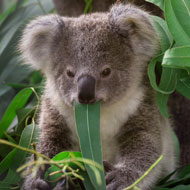 Finding could offer 'insurance' for survival of species
An island off the south coast of Australia could safeguard the future of koala populations, which are being devastated by chlamydia.

Scientists at the University of Adelaide discovered that koalas on Kangaroo Island are free from chlamydia infection, unlike every other large population in Australia.

Some wild populations on mainland Australia have 100 per cent infection rates, while experts predict around half of koalas have the disease. It is a key factor in koalas being under threat in the north east of the country.

PhD candidate Jessica Fabijan said: "The impact of chlamydia on populations of koalas in Queensland and New South Wales is devastating, with high levels of severe disease and death, and common infertility.

"This last large, isolated Chlamydia-free population holds significant importance as insurance for the future of the species. We may need our Kangaroo Island koalas to re-populate other declining populations."

Kangaroos Island is Australia's third biggest offshore island and is regarded as being one of the world's most pristine natural environments.

Koalas are not naturally occurring on the island but 18 were introduced in the 1920s owing to fears they could go extinct on the mainland. The absence of predators and lack of human interference has allowed koalas to flourish. A survey in 2015 estimated their numbers to be around 50,000.

Researchers captured and released 170 koalas from Kangaroo Island and 75 wild koalas from the Mount Lofty Ranges, east of the South Australian capital, Adelaide.

Findings published in Scientific Reports show that 46.7 per cent of koalas from Mount Lofty Ranges tested positive for Chlamydia, though the vast majority did not show clinical signs. None of the Kangaroo Island koalas tested positive for the disease. There were also no definitive cases of the disease in the 13,000 previous records of koala examinations.

Further research is now underway to understand the difference in the severity of chlamydia in northern and southern koalas.