Undercover footage reveals animal abuse at Suffolk farms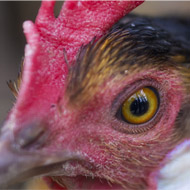 Welfare schemes suspend the farms amid allegations
Two Suffolk farms have been suspended from high welfare assurance schemes, following the release of undercover footage that shows a range of animal welfare issues and abuse.

The pressure group Animal Justice Project went undercover at Trees Farm and Brome Grange Farm between February and May this year.

As a result of the findings, Trees Farm has been suspended from the RSPCA Assured scheme, which promises higher animal welfare standards. Tesco suspended Brome Farm, which supplies chicken to the retail giant, whilst the Red Tractor scheme has suspended both farms.

Key findings from the investigation include:
nearly 500 chicks died in their first week at one of the farms
baby chicks were kicked, thrown and had their necks snapped, with one being left to die over eight hours
lame and dying birds at the RSPCA-certified farm being left to suffer for days, while workers carry out 'inadequate' daily welfare checks in sheds
workers breaking the necks of adult birds and throwing them convulsing to the ground
a worker urinating into a bucket then throwing live but seriously impaired birds into it hours later
food and water contaminated with sodden bedding
catching teams cursing, throwing, kicking and slamming birds into crates during catching for slaughter at the RSPCA-certified farm
a 'dilapidated', sparse and largely concrete range for 'free-range' birds on the RSPCA-certified farm, which breaches guidelines.

Responses
RSPCA Assured said it is "shocked and disgusted" by the revelations, adding that the treatment of the animals in the footage is "completely unacceptable". The group added that it is "deeply sadden[ed]" that one of the farms shown was certified by RSPCA Assured. Trees Farm and the catching team were suspended from the scheme on 21 June for breaching standards. Brome Grange Farm has not been a member of the scheme since January last year.

An RSPCA spokesperson added: "This footage is extremely distressing and we are shocked and disgusted by the behaviour displayed towards these animals. We take all reports of animal cruelty and neglect extremely seriously and we are looking into these upsetting incidents. Our inspectors are liaising with a number of agencies."

A Tesco spokesperson said: "We expect all our suppliers to meet the recognised farm assurance standards, including Red Tractor certification, as well as our own stringent, industry leading requirements on animal welfare. We have immediately suspended [Brome Grange] farm while we fully investigate and we will continue to engage with the appropriate authorities on welfare standards at the farm."

A spokesperson for Red Tractor said: "Ensuring Red Tractor accredited farms have high animal welfare standards is a top priority, and we take any allegations of breaches to these very seriously. The farms have been suspended with immediate effect."