Appeal to raise funds for working animals in Haiti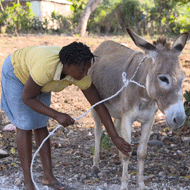 UK government will match every donation

An ambitious match-funded appeal is hoping to raise hundreds of thousands of pounds to improve the welfare of working animals in rural Haiti.

Equine charity World Horse Welfare launched the appeal to raise more than £150,000, which will be doubled by the UK government. Funds raised will help to provide training for communities, allowing them to improve welfare whilst strengthening their livelihoods.

Working horses, donkeys and mules are an essential method of transportation for rural communities in Haiti, carrying produce to be sold at markets, ferrying water for livestock and taking children to school.

The charity's Haitian partner, the Fondation Quatre Pattes will work in 10 towns around Port-Au-Prince, sharing knowledge with horse owning communities and providing training in saddlery, horse care and veterinary treatment. The project will not only support owners in improving their animals' health, but will also help them to generate income opportunities.

World Horse Welfare chief executive Roly Owers said: "Haiti is one of the poorest countries in the world that is still trying to recover from the devastating earthquake in 2010.
"Despite this there is great appetite within communities in rural Haiti to access new skills and knowledge – and empowering local people through training in horse care, saddlery and veterinary treatment not only improves the welfare of their working animals but boosts their independence too.

The government will match every donation received until 17 September. Donations can be made via World Horse Welfare's website.

Image © World Horse Welfare