Invictus Games medallist rehomes 100 hens to help injured veterans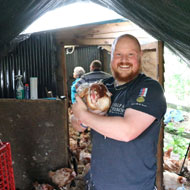 Chickens will help people living with serious mental health conditions

An injured veteran who won gold in the Invictus Games has re-homed 100 hens from the British Hen Welfare Trust (BHWT) that were destined for slaughter.

AJ Pingram, who served as a marine engineer in the Royal Navy, will use the chickens to provide therapy to fellow ex-servicemen at his Care Farm near Snowdonia. His Farm is open to anyone with disabilities, hidden and visual, and is already home to cats, turkeys, alpacas and ducks.

The farm's aim is to help ex-servicemen find new careers or hobbies to aid their physical and mental recovery. AJ is already familiar with looking after chickens because they helped him with his rehabilitation after leaving the Navy.

"Having the chickens meant I had to go outside and look after them even when I didn't want to look after myself," he said. "Their lives mattered to me, so I would go outside to feed and clean them and collect the eggs.

"Then they started to recognise me and come running to say hello and see what food I had. I would sit and they would get on my lap and go to sleep; it was lovely and so calming."

AJ, who is a Help for Heroes Ambassador, heard about the British Hen Welfare Trust through Facebook and decided to contact them. The hens he re-homed had been laying eggs in cages for the past 18 months and were heading for slaughter.
Visitors to his farm can work with the animals or relax, without the pressures of the outside world. Injured veterans interact with the animals, enjoy the fresh air and develop outdoor skills such as farming and tree surgery.

The concept of hens as therapy has been long-championed by the BHWT. Supporters of the charity say that chickens have helped them through a variety of mental illnesses, including depression, anxiety and grief.

Founder of the charity Jane Howorth MBE, said: "I'm thrilled that our hens will be doing so much good in such a wonderful, caring environment. AJ has given these hens a new lease of life and in turn, they can help change the lives of the injured veterans visiting the care farm. A real happy ending for all involved."
Image (C) BHWT