Rising concern over netting to stop birds nesting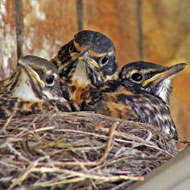 Conservationists call for new legislation
Environmentalists have expressed concern at the rise of netting being used by housing developers to prevent birds nesting on their sites.

According to The Guardian, developers are using netting to get around a law that prevents the removal and damage of birds nests and to avoid delays to their developments caused by nesting season.

Experts say that the rise is partly due to the increase in house building over the last five years, as firms come under pressure to meet government housing targets.

David Savage from Derbyshire Wildlife Trust told The Guardian: "It has gone crazy this year. There seem to be more and more nets being used.

"I would like to see it banned altogether; it is completely unnecessary. It really does feel like nature is an inconvenience to developers that needs to be sorted out, and meanwhile, we are losing species at a dramatic rate. We need new legislation which is better and more fit for purpose on this."

Across the UK, campaigners have been tearing down netting and filming animals that have become tangled up. A member of the public described how she removed netting from hedgerows on a roadside in Lancashire:

"We could see birds inside [the netting] and a dead rabbit who had obviously struggled," she told The Guardian. "If we see anymore we wouldn't hesitate to take it down. This is barbaric, what these developers are doing, and it should be made illegal for them to carry out further netting."

Some housing developers are now renewing their policies as a result of the recent action.

William Davis told The Guardian: "Our discussions with Derbyshire Wildlife Trust were a definite factor influencing our policy decision, as was finding ourselves technically in the right but clearly at odds with public sentiment. We have removed the majority of nets and will by close of business on 5 April have removed all nets from our development sites."

Bellway and Bovis Homes have stated they will also be changing their policies to prevent the use of netting at any of their sites.