Owner of heroic army dog to run London Marathon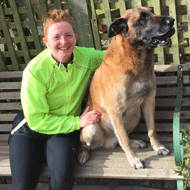 Lou Hackney is hoping to raise vital funds for the PDSA

A charity worker and owner of the only living recipient of the PDSA Dickin Medal, is running this year's London Marathon to raise vital funds for the PDSA.

Lou Hackney, 49, works as a veterinary support manager at the charity. She is tackling the gruelling 26.2 mile course on 28 April. In honour of her dog Mali, a retired British military working dog that came to live with her 15 months ago.

Mali, a nine-year-old Belgian malinois, received the prestigious Dickin Medal after saving the lives of troops in Afghanistan. During his tenure he aided a highly sensitive operation to secure an enemy stronghold. He indicated the presence of insurgents on numerous occasions and was twice sent through direct fire to search for explosives.

Talking about Mali, Lou said: "He joined our family shortly after I lost my mum to cancer and was just the distraction I needed after experiencing such loss. He filled a massive gap in our lives and it's like we've had him for ever. I can't imagine our home without him now.

"We feel proud and extremely lucky to have him. When he's lying on his back stretching with his legs in the air I look at him and think what an extraordinary, brave, beautiful dog you are and we will do all we can to keep him happy and healthy in the years he has left."

She is running for thousands of pets, like Mali, who play a vital role in filling their owners' lives with joy and companionship.

In the course of her work, she said she sees "day-in, day-out the life saving work that takes place" at the PDSA's pet hospitals across the UK.

She is hoping to raise £1,900 for the charity as part of her marathon and will also hold a secret auction and finishing time sweepstake to help raise the funds.

The charity's fundraising manager, Amy Wareing-Reid, said: "Lou's marathon effort means many pets will receive the vital, life-saving vet treatment they need and we're so proud that she's taken on such gruelling training on top of her busy life. We'll be cheering Lou and the rest of Team PDSA's runners along the course and I hope local animal lovers will support her too."

Visit Lou's JustGiving page to donate.

Image © PDSA