AHDB Pork calls for stepped-up biosecurity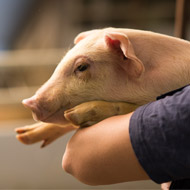 Pig farmers are being urged to step up biosecurity to reduce the risk of swine dysentery in their herds.

According to Farmers Weekly, AHDB Pork have confirmed cases of the disease in the north and east of the UK and is calling on producers to focus on hygiene to protect their animals.

Members of the AHDB Pork Significant diseases charter are reported to have been informed of the outbreaks.