Update on new pig tail docking rules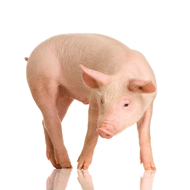 Calls to delay new regime over lack of clarity
The National Pig Association (NPA) is urging the government to delay new rules on tail docking, citing a lack of clarity over what will be expected of farmers.

A new inspection regime is due to come into force in April, which will mean that pig tail docking can only be carried out if there is evidence that the risk of tail biting has been reduced and all likely trigger factors addressed.

Failure to comply with inspections could result in enforcement action and Single Payment deductions, NPA warned.

The new rules were expected to come into force in January, but the deadline for implementation was extended after NPA called for more time to seek clarity.

After a meeting with the APHA, the NPA has provided an update on the new regime.

Key changes:
farmers will need to provide evidence that tail docking is justified and that 'reasonable' effort has been taken. APHA will no longer accept a letter from a vet to justify docking
pigs must be provided with some form of enrichment and farmers must be prepared to make improvements if enrichment is found wanting. A mix of wood and chains and/or plastic would be acceptable, APHA is reported to have said, assuming the pigs use it
inspectors will also look at ammonia and CO2 levels, humidity and light - all of which can affect pig behaviour and potentially tail biting. APHA does not expect all pig farmers to measure ammonia levels - action should be taken if ammonia levels are detectable by nose and high enough to affect pig welfare.

NPA stressed that there could be serious unintended consequences if tail docking stopped suddenly. Zoe Davies added that there is currently a lack of clarity over the percentage of tail-bitten pigs farmers would need to see before docking is deemed acceptable.

She added: "APHA will come down harder on farmers who fail to accept there is an issue where one has been raised."

NPA is requesting a three-stage process where there is not a clear breach, so that farmers would initially receive an advisory notice, then a formal notice, before a breach is declared.