Mixed views on BSL response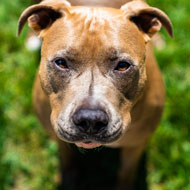 'Disappointment' that breed ban will remain
Vets and animal welfare charities have said they are "disappointed" that the government will not review breed specific legislation (BSL), which makes it illegal to own four types of dog.

The government recently responded to an inquiry by the Environment, Food and Rural Affairs (Efra) Committee, which called for an overhaul of Section 1 of the Dangerous Dogs Act, also known as BSL.

Critics have called for the ban on certain breeds to be overturned, as evidence suggests it is harmful to dog welfare and has failed to protect the public. However, the government said the ban will remain in place 'for reasons of maintaining public safety'.

Dr Samantha Gaines, RSPCA dog welfare expert, commented: "We are extremely disappointed that the Government is still suggesting that prohibited types of dogs are more dangerous than other types of dogs and that they are involved in a disproportionately high number of attacks on people, including fatalities. The RSPCA, in its evidence to EFRA, made it very clear that in the absence of robust data around the dog population such claims cannot be made and it is misleading to do so."

'Flawed' legislation
The Efra Committee recommended an overhaul of the ban on transferring Section 1 dogs to new owners. Currently it is illegal to transfer banned breeds to a new keeper, which forces animal welfare charities to euthanise dogs of these breeds, regardless of their temperament.

Responding, the government confirmed there are no plans to review this legislation, so the law as it stands will remain.

Battersea's chief executive Claire Horton said: "Despite many experts testifying to the EFRA Committee that there was a need to review BSL, the Government has failed to give any convincing evidence to back up their decision to leave this flawed legislation unchanged. Worst of all, the Government's stance means dogs on their banned breed list will still have to be destroyed, based purely on what a dog looks like and not on what it's actually done."

'A step in the right direction'
However, the BVA, Efra Committee and numerous animal welfare charities welcomed other aspects of the government's response, including its commitment to develop a plan of action to teach children about safety around dogs.

The government also said it has commissioned research projects to advise on improving responsible dog ownership and to assess the effectiveness of current dog control measures. It will also look at developing a centralised database of dog bites, their severity and circumstances.

BVA president Simon Doherty said: "We are disappointed that the Government has not listened to the evidence provided by us and other animal welfare organisations against the effectiveness of a breed-specific ban on dogs. However, it is at least encouraging that it has commissioned research to assess the effectiveness of current dog control measures and examine factors that may cause dog attacks."

Efra Committee chair Neil Parish MP also welcomed aspects of the government's response, but added: "There is much more work to be done to create a truly fair system. There must be more focus on the owner and not the breed. The destruction of a dog based purely on its breed is cruel and often unnecessary.

"Although the government recognises the importance of improving how dangerous dogs are identified and controlled, today's response is not a solution, but is a step in the right direction.