Dog and human microbiomes 'more similar than thought'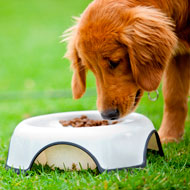 Study suggests dogs could be a good model for nutrition studies
New research indicates that dog and human microbiomes are more similar than previously thought.

Scientists found the gene content of a dog's microbiome overlapped with human gut genes by 63 per cent. This is compared to an overlap of 20 per cent in mice and 33 per cent in pigs.

Researchers from the European Molecular Biology Laboratory carried out a randomised trial involving 64 beagles and retrievers, of which an equal number were lean and overweight.

All dogs were fed the same base diet of commercially available dog food for four weeks, before being split into two groups. One group then ate a high protein, low carbohydrate diet for four weeks, while the other was fed a high carb, low protein diet.

Scientists collected 129 faecal samples from the dogs at four and eight weeks, then extracted DNA to create a catalogue of over 1.2 million gut microbiome genes.

Changes in the amount of protein and carbohydrates in the diet had a similar effect on the microbiota of dogs and humans, according to the study, which was published in the journal Microbiota. The microbiomes of overweight or obese dogs were also more responsive to a high protein diet than lean dogs.

The findings suggest dogs could be a good model for research into the effects of diet on human gut microbiota.