Black cats shunned because they 'don't show up in selfies'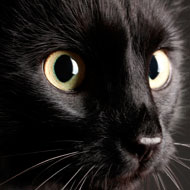 Battersea Dogs & Cats Home says it is an 'increasing problem'

Black cats are being left behind in rescue centres because they don't look good on social media, according to a Bristol-based cat rehoming centre.

Speaking to The Telegraph, The Moggery founder Christine Bayka said that the situation is worse than it has ever been. The rehoming centre looks after 40 animals and none of them are tabby, ginger or tortoiseshell.

She said: "It's worse now because black cats don't show up in selfies. Now everybody wants to take selfies and put them on Facebook. It's a very narcissistic use of social media.
"It happens all the time, I will go through all the questions and say 'are you flexible about colour?' Then they will say, 'yes, as long as it's not black.'"

Responding, Rachel Saunders from Battersea Dogs and Cats Home said: "On average, we do find our black cats tend to stay slightly longer than the average but not enough for us to say they are harder to rehome than others. In fact, we sometimes get people coming to Battersea specifically to rehome a black cat.

"We love all cats and every one of our felines has its own unique character. At Battersea, we'd always urge people to go for personality over looks. Cats are so much more than tools for social media likes – they will become your constant companions and best friends, no matter what colour they are."

She continued: "It's an increasing problem, it wasn't like this 20 years ago. Over 20 years of having difficulty rehoming black cats, it's definitely got harder because of selfies."

To inspire potential cat owners 'to see the beauty of midnight coloured moggies', Battersea Dogs and Cats Home has published a step-by-step guide to help pet owners take their very own black cat selfie. The guide includes advice such as 'getting down to cat level' and 'loving them anyway, no matter their colour or how many likes they get you'.