Blacklisted shark fishing vessel arrested in Liberia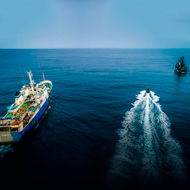 Arrest will save "hundreds of thousands" of sharks
Liberian officials have arrested an internationally blacklisted fishing vessel, which is thought to have killed around 500,000 sharks a year.

The Liberian coast guard, assisted by the marine conservation group, Sea Shepherd, discovered a shark liver oil production facility onboard the 'Labiko 2'.

Documents inspected onboard revealed previous fishing trips had yielded 40, 52 and 60 metric tonnes of shark liver oil. Forty tonnes equates to 53,000 sharks and, as an average fishing trip lasted 15-18 days, Sea Shepherd estimates more than 500,000 sharks were killed a year.

Sharks grow slowly, mature late and produce small numbers of offspring, meaning they are particularly vulnerable to overfishing. Sea Shepherd warns that the shark liver oil production industry could wipe out a fishery in years, pushing the species to extinction.

The Labiko 2 was found to be using prohibited deep water gillnets, rather than longline fishing gear as per the licence. Gillnets were also being used to target deep water sharks. It was further discovered that the vessel was on international blacklists of three regional fisheries management organisations, under its previous name 'Maine'.

Liberia's minister of national defence, the Honourable Brownie Samukai, commented: "The owners and operators of the Labiko 2 conspired to circumvent the laws of Liberia, devastating the Liberian marine environment in the process. I've said it before, and I'll say it again - the Republic of Liberia is not open for business to plunderers."

Sea Shepherd's director of campaigns, Peter Hammarstedt, called the Labiko 2 a "floating environmental catastrophe" and said the arrest of this notorious poacher will save "hundreds of thousands" of sharks.

He added that it is "incumbent upon Liberia to take strong action" against the vessel, to ensure shark populations are not decimated in Liberia, as they were in Europe, East Africa and India.

Deep water shark populations plummeted in the North East Atlantic Ocean, falling to 20 per cent of their original numbers, due to the use of gillnets by a fleet of deep water shark fishing boats in the mid-90s. As a result, the International Council for the Exploration of the Sea effectively banned the taking of deep water sharks.

Photo by Melissa Romao/Sea Shepherd