Scotland to regulate electric shock collars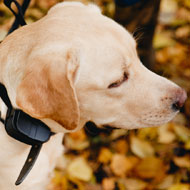 Kennel Club disappointed over lack of a ban
The sale and use of electronic training devices for dogs is set to be regulated in Scotland, the government has confirmed.

Proposed new regulations would include a qualification for dog trainers who wish to continue using the devices.

Responding to the news, the Kennel Club expressed disappointment that electric shock collars would not be banned, despite a large amount of scientific evidence to suggest they have long term negative effects on dog welfare.

An event at Scottish Parliament last week (8 November) brought together animal welfare and veterinary organisations, dog trainers, behaviourists and MSPs.

One attendee suggested that shock collars could be used by owners who were struggling to cope with their dog as a result of choosing an unsuitable breed, but are unwilling to commit to more positive training methods.

The Kennel Club argues that allowing the use of shock collars for this reason contradicts the advice of veterinary and animal welfare organisations, who advise prospective dog owners to research different dog breeds thoroughly.

Kennel Club secretary Caroline Kisko said she has "grave concerns" that supporting a formal training qualification could legitimise the use of shock collars. Gaining the qualification may even be viewed as an "aspirational target" for dog trainers.

She added: "The Kennel Club also questions whether developing a qualification for fewer than a hundred dog trainers is an appropriate use of resources and tax payers' money when the government could instead develop a qualification in positive training methods suitable for all dog trainers, the vast majority of whom would never use an electric shock collar."

However, the Scottish Government argues that regulating the use of such devices in severe cases could help to prevent pets being euthanised on behavioural grounds.

A spokesperson said: "We believe the use of electronic training aids should be strictly limited and controlled. That's why we will introduce new regulations, which will ensure these devices are subject to much tighter restrictions than in England.

"The Scottish Government is working with trainers to develop a recognised qualification for those who wish to continue using stimulus collars in a controlled and responsible way. This approach will help prevent the euthanasia of dogs with serious behavioural problems, which may not respond to other forms of training."

Electric shock collars are currently legal in England and Northern Ireland. The collars were banned in Wales in 2010 and the ban was upheld following a recent review.