Scotland announces bill to raise animal cruelty sentences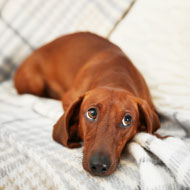 Announcement could have major implications for England and Wales
The Scottish government has announced a bill to raise the maximum prison sentence for serious animal abusers to five years.

The news comes just weeks after Battersea Dogs and Cats Home launched its campaign to increase Scotland's current 12-month sentence.

Research by the organisation revealed that Scotland has one of the lowest animal cruelty prison sentences in the whole of Europe. Only five other countries, including England and Wales, have lower sentences for animal cruelty.

Welcoming the announcement, Battersea's chief executive Claire Horton said: "Battersea is thrilled by this news from the Scottish Government, as a five-year deterrent in Scotland could go a long way to help many animals that are the innocent victims of unacceptable cruelty.

"When we launched our campaign in Scotland last month, there was a momentum building amongst Scots in favour of tougher sentences and today's news proves the Government is listening. They recognise 12 months is simply not enough for some of the horrific cases of animal cruelty that come through the Courts, nor does it deter other would-be animal abusers.

She continued: "There's still a way to go before the Scottish Government's bold announcement today becomes law, as it needs support from the other Holyrood parties.

"A five-year sentence means courts have the power to appropriately punish the most shocking offences of animal cruelty. Battersea is urging animal lovers to respond to this call for action and contact their MSPs, to make it abundantly clear to all politicians that the Scottish public want to see five-year sentences become a reality. We commend the Scottish Government for their announcement today and Battersea is willing to help in any way we can to make this change happen."

Claire Horton added that the Scottish government's announcement could have major implications for England and Wales, where the maximum prison sentence for animal cruelty is six months.

She added: "Battersea is calling for tougher cruelty sentences north and south of the border. So, with Scotland now wanting to bring in five-year sentences, I sincerely hope this will make England and Wales now move to follow suit."

To assist with Battersea's campaign and help bring the Scottish Government's plans to fruition, visit www.battersea.org.uk/NotFunny.