Student launches petition to put animal welfare on curriculum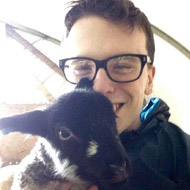 Appeal calls for a compulsory course

A veterinary student is calling on the government to introduce animal health and welfare to the national curriculum.

Over 2000 people have already signed the petition, which calls on the Department of Education to launch a compulsory course that teaches students how to treat and perceive animals.
It has been launched in conjunction with Louise Craggs, who launched a similar petition earlier this year.

RVC student Kristopher Dorr said that education could reduce the suffering of animals and give future generations an understanding of animal care.

Having worked in city farm where children can interact with animals, Mr Dorr said that he had witnessed the impact a single animal can have on a child.

"That connection gives them a real understanding that that animal has needs, it can feel pain, and we should care for them," he said.
"I feel educating children helps them develop a more compassionate and caring personality and hopefully through this, we will see a fall in a number of animal abuse cases."

Mr Dorr also believes that education could be a key factor in giving future generations an understanding of where their food comes from.

"Society today has dissociated itself from the food making industry. This has been demonstrated several times by unsubstantiated claims against the industry through social media," he said.
"I believe that everyone is entitled to their opinion, but it should be an educated stance."

The appeal will be considered for debate after 100,000 people have signed the petition. To lend your support, visit https://petition.parliament.uk/petitions/170481.
Image (C) Kristopher Dorr