Illegal pet importers must be 'brought to justice'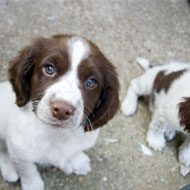 Wood Green speaks out about recent case

Those who import pets illegally must be "brought to justice", says animal charity Wood Green as it responds to news of a recent court case.

According to the charity, a Peterborough woman was ordered to pay £1,500 after she pleaded guilty to two counts of landing an animal with intent to evade rabies regulations.

"As a charity, we are committed to educating the public about the safe and sensible rehoming of animals, so we are disappointed when we learn of those who feel they can take shortcuts and make money in the process," said Wendy Kruger from Wood Green.

The charity, which is based in Cambridgeshire, has seen a rise in the number of animals bought over the internet and subsequently rejected by their owners.

"The long term implications of getting an animal through an inappropriate means can be significant in terms of disease and health as well as the ongoing effects a poor start has on the dogs behaviour," Wendy added.

"In addition, if their new pet is found to have been legally imported, an unsuspecting new owner can find themselves with a bill of thousands of pounds to pay for quarantine. If they are unable to cover this cost they will be forced to part with the puppy."

The charity is urging would-be pet owners to acquire their new pet from a registered animal rehoming charity or a registered breeder.