Debilitating parasite finds new transition pathway in dogs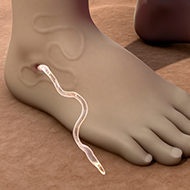 Dogs eating infected fish has slowed the process of eradicating Guinea worm disease.
Researchers at the University of Exeter have discovered that the eradication of Guinea worm disease is being impeded by domestic dogs, who are harbouring the parasite by eating infected fish.

Guinea worm disease, usually caught by drinking water containing water fleas carrying the parasite larvae, causes disability and trauma in communities in Chad, Ethiopia, Mali and South Sudan.

Once inside the body, the worms mate and grow, and after 10 to 14 months, an adult worm of around one metre in length emerges from the body to shed it's larvae back into the water.

Eradication programmes have been hugely successful, with human cases of Guinea worm cut from millions per year in the 1980s, to only 27 cases in 2020.

However, new research published in Current Biology by researchers at the University of Exeter has revealed a new transmission pathway for the disease, dogs can eat fish which carry the parasite larvae, and maintain the parasite's life-cycle, making it possible for humans to continue to catch the disease.

Professor Robbie McDonald, who led the study, said: "Dogs are now the key impediment to eradicating this dreadful human disease.

"Our work shows that fisheries, and the facilitation of dogs eating fish, are likely contributing to the persistence of Guinea worm in Chad.

"The challenge now is that this pathogen must be eliminated not only from people but also from animals.

"This is a clear example of where a 'One Health' approach to integrating health of people, animals and the environment is required to eradicate this debilitating human disease."

The paper, entitled "Seasonal fishery facilitates a novel transmission pathway in an emerging animal reservoir of Guinea worm" can be accessed here.