RCVS and BVA issue joint statement on revised key worker status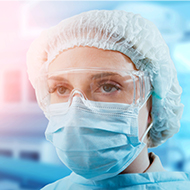 Only vets working in food supply in England can access childcare in schools.

The BVA and the RCVS have issued a statement following the announcement that only veterinary surgeons working in food supply are to be classed as 'key workers' in England for the purposes of securing childcare in schools.

Under tightened restrictions, only veterinary surgeons working in abattoirs and meat processing plants, at border control posts, and attending to livestock production will be eligible to access the childcare provision.
The government guidelines state: 'Children with at least one parent or carer who is a critical worker can go to school or college if required, but parents and carers should keep their children at home if they can.'

The BVA/RCVS statement reads: 'We fully understand that this will cause a great deal of anxiety amongst veterinary professionals with children who currently face the significant challenge of balancing their professional and parental responsibilities, and the knock-on effect this may have on other colleagues in the veterinary team. We also realise that this may cause greater difficulties for practices in rural areas and those with smaller teams.'

The statement goes on to stress that under the RCVS Code of Professional Conduct, veterinary surgeons have an ongoing professional responsibility to provide 24-hour emergency first aid and pain relief to animals according to their skills and the specific situation.

The BVA and RCVS say that while emergency care provision remains an obligation, all other veterinary work should be triaged based on animal health and welfare needs, the availability of the necessary team resources, and any impact it may have on public health.

The statement continues: 'We cannot state strongly enough to veterinary employers that business should not be continuing as usual under these worsening pandemic circumstances. RCVS and BVA guidance allows for non-emergency work that is essential for animal health and welfare now, or in the timeframe of the lockdown, to continue, but there is no obligation that this work must be carried out.

'We urge the professions to continue to play their part in helping to limit the spread of the virus, especially in light of a new more transmissible strain, by making responsible decisions on what veterinary work to continue.'
The key worker guidance for veterinary professionals in Scotland, Wales and Northern Ireland remains unchanged.