RVC study offers hope for osteoporosis sufferers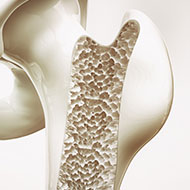 Researchers present NaQuinate treatment found to prevent bone loss.
Researchers at the Royal Veterinary College (RVC) have highlighted a promising new treatment for people living with skeletal disorders.

Scientists say the treatment - NaQuinate - presented today (11 September) at the American Society of Bone and Mineral Research (ASBMR), could be used to manage osteoporosis, a debilitating condition that affects more than three million people in the UK.

NaQuinate is a naturally occurring metabolite of vitamin K. Previous studies have shown that it can protect against the loss in bone quality that occurs in ovariectomy in mouse and rat models.

In this new study, NaQuinate was also shown to significantly synergise with mechanical loading in targeted regions of cortical bone. The treatment is currently in Phase I clinical trials to establish its safety and efficacy as a treatment for post-menopausal women with osteoporosis.

Professor Andrew Pitsillides, Professor of Skeletal Dynamics at the RVC, said: "There are three main ways to maintain bone quality and strength to resist fracture: stop bone loss, build mass and enhance the topographical changes to optimise and enhance weight-bearing roles. It may be that NaQuinate can achieve a balance of all three to treat osteoporosis and better maintain healthy ageing."

An estimated 500,000 people are hospitalised every year for broken bones owing to osteoporosis. The condition causes a significant social and economic burden, with breaks often leading to a downward spiral of disability, loss of independence and increased mortality.

Prof Pitsillides added: "At the RVC we recognise the importance of a collaborative 'One Health' approach which operates at the cutting edge of veterinary and human medicine, and this research could pave the way for a novel treatment for this common and debilitating condition."

The study was developed in collaboration between the Skeletal Biology group at the RVC and biotechnology company Haoma Medica.