BVA senior vice president appointed chair of FVE working group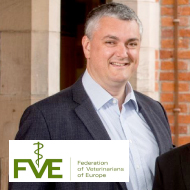 Group to assist FVE in issues related to food integrity

Senior vice president of the BVA Dr Simon Doherty has been appointed as chair of the Food Safety & Sustainability working group of the Federation of Veterinarians in Europe (FVE).
Dr Doherty has 20 years' experience in farm animal and equine veterinary practice, industry and academia. He has been working as a senior lecturer at the Queen's University Belfast Institute for Global Food Security since 2018 and is a trustee of Send a Cow and the Animal Welfare Foundation.
The Food Safety & Sustainability working group will support FVE in all matters related to food safety, food security and sustainable livestock systems. It will also assist FVE in taking the most effective policies at EU level.
Image (c) Queen's University Belfast.