BVA launches award to celebrate young vets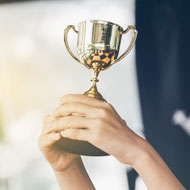 A new award has been launched to celebrate inspirational young vets who are making a difference in their day to day work.

Nominations are now open for the BVA Young Vet of the Year Award, which is the first of its kind.
It is open to all vets registered with the RCVS in the first eight years of their careers, working in any veterinary sphere, including clinical practice, research, education or veterinary politics.
Organisers are looking for an 'exceptional young vet' whose work has benefitted the veterinary community or the workplace.

The awards are open for self-entry and nominations by 1 August 2019. The winner will be announced at London Vet Show on 14 November 2019, where a £1000 cash prize will be awarded, alongside a 'career enhancing experience' with Zoetis.