Government recognises test and trace challenge for vets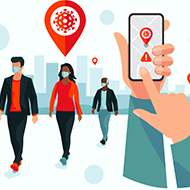 Practices that have taken all precautions will not be asked to self-isolate.

Public Health England (PHE) has issued updated advice to the BVA and the RCVS that recognises the challenge of test and trace for veterinary practices.

Under the new guidance, veterinary professionals in England who have taken all precautions, such as wearing appropriate PPE, will not be considered as contacts and will not be asked to self-isolate.

In the event that self-isolation is required, but would lead to a major problem with the provision of veterinary services to support animal health and welfare in the area, veterinary practices can discuss the situation with the local PHE Health Protection Team who will consider a local risk assessment.

The move comes after veterinary practices raised fears about the contact tracing programme potentially forcing them to shut down, and the impact this disruption could have in their local communities. BVA president Daniella Dos Santos, raised the issue with Defra Minister Lord Goldsmith and the UK Chief Veterinary Officer earlier this year, and they pledged to take up the matter.

Welcoming the news, Ms Santos said: "This is a huge breakthrough for veterinary practices who have been working under the fear of the contact tracing programme potentially forcing them to shut down. It's the number one concern that members have been raising with me through our COVID Clinics and in other communications, and I'm delighted that we now have a positive outcome for them in England.
"We're incredibly grateful to Lord Goldsmith and UK CVO Christine Middlemiss for their support in getting the new PHE guidance approved. We'll continue to raise the issue in Scotland, Wales and Northern Ireland and hope that a similar approach is taken."

She added: "It's important to remember that the contact trace information is confidential so if a client or a contact outside your workplace identifies you as a contact, you may still need to self-isolate. Veterinary practices and professionals should continue to follow social distancing and biosecurity guidance."