Online workshops to support 'sustainable change' in practice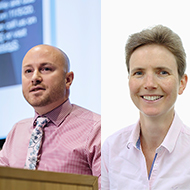 VMG partners with VMD to deliver interactive sessions for veterinary leaders.

The Veterinary Management Group (VMG) has joined forces with VDS Training to support veterinary leaders with the rate of change in the profession and the way it delivers its service to patients and owners..

The groups are launching a series of online practical workshops entitled called 'Leading Change in Veterinary Practice'. The interactive sessions will enable delegates to carry out exercises and self-assessments, as well as practise new skills.
Delegates will also be invited to discuss common challenges, think about changes they plan to implement in their business and will leave with tools and strategies tailored to their needs.

"Leading and working in a veterinary business today, especially one seeking to emerge successfully from the COVID-19 lockdown, involves a managing a diverse - and possibly anxious - team and client base while coping with heightened financial pressures, rising consumer expectations and treatment costs and against the backdrop of a global sustainability emergency and the potential for further lockdowns," explained VMG president, Rich Casey.

"This 'new normal' will put extreme pressure both on veterinary leaders and on other team members responsible for supporting the implementation of change in their practices. To succeed, they will need 21st-century leadership skills and the confidence to put them into practice in a post-lockdown world. Our workshops will help them to do this."

VDS training consultant Penny Barker added: "We know from conversations in practices, at conferences and our courses that change is a challenge for both leaders and their teams alike. Teams often feel that change is being done to them and that there is little sense of stability. Leaders feel they meet resistance at every turn and struggle to find time to think change projects through properly.

"At VDS Training, we believe that putting people at the heart of change management is the key to successfully leading change in practice - not only delivering the intended business benefits but also ensuring your team stay happy, healthy and engaged. We are excited to be partnering with the VMG to deliver these workshops. Above all, they are for veterinary leaders to come together and start some meaningful conversations about the opportunities we have to have to lead change within our practices and the profession."

The workshops will take place on the following dates:
8th July 2020
23rd September 2020
13th October 2020
To register, visit vetmg.com/shop/