Improvements needed to protect pollinators, study finds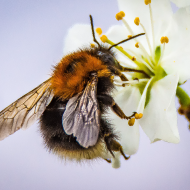 Habitat quality and diversity found to be insufficient

More needs to be done to improve the quality of agri-environmental habitats which support pollinating insects, according to a study led by Scotland's Rural College (SRUC).
Some 84 per cent of EU food crops rely on pollination from insects, but their numbers have been in decline in recent years due to loss of flower-rich habitats often linked to intensive farming.
Researchers from SRUC partnered with 22 pollinator experts from 18 different countries across Europe, to assess the effectiveness of a variety of Ecological Focus Areas (EFAs) in supporting pollinators.
EFAs are areas of farmland set aside for practices which benefit the climate and environment. They were introduced as part of the 2014 EU Common Agricultural Policy (CAP), which defined a set of habitat and landscape features that were necessary for farmers to incorporate in order to receive basic farm payments.
Despite substantial investments in EFAs, researchers found that they are failing to provide all of the resources that insect pollinators require.
The group identified 'substantial opportunities' to improve these areas by implementing pollinator-friendly management practices. These changes would help to increase the volume and range of resources for pollinators in a habitat.
According to SRUC, the findings of this study – funded under the Cost Action Super-B project – will be used to inform the CAP post-2020.
Dr Lorna Cole, lead researcher and agricultural ecologist at SRUC, said: "With the CAP post-2020 fast approaching, our study highlights that to effectively conserve pollinators, we need to improve habitat quality. With different habitats offering different resources we also need to focus on increasing habitat diversity to ensure that our countryside provides the range of resources that pollinators require."