Endoscopic foreign body retrieval study shows promising results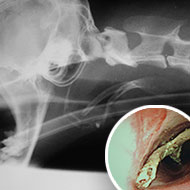 Research demonstrates a high success rate with few complications

Endoscopic foreign body retrieval in cats is associated with good overall outcomes and low complication rates, according to new research.

A study published in the Journal of Small Animal Practice (JSAP) scanned medical records from a single private referral practice for instances of foreign body endoscopy. A total of 52 cats with gastric and oesophageal foreign bodies were included in the analysis.
The research was carried out by researchers at the Metropolitan Veterinary Hospital in Ohio. Lead author, Vanessa Dollo said: "The study supports the use of endoscopy for the retrieval of foreign bodies from the oesophagus and stomach of cats, demonstrating a high success rate (94.2 per cent). 

"Whilst overall complication rate was low (15.4 per cent), major complications including oesophageal stricture formation and cardiopulmonary arrest may occur. Cats with oesophageal foreign bodies were more likely to experience major complications than those with gastric foreign bodies."

Despite its success, the researchers stress that there are limitations to the study. For example, the cats were treated at one referral practice, and the results may not be representative of other practices.

Furthermore, six clinicians performed the endoscopy and so there may have been some descriptive bias introduced. The team addressed this issue by retrospectively grading the images obtained during the procedure to assess the severity of oesophagitis and gastritis. 

Nicholas Jeffery, editor of the JSAP added: "Endoscopy is often the preferred treatment method in retrieval of OFBs and GFBs as it avoids the need for surgical intervention and associated operative pain. It is encouraging, therefore, that the results of this study appear to show a good overall outcome for affected cats."