Minister calls for urgent action to protect planet's oceans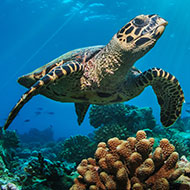 Government pressing for marine protection targets to be tripled

Environment minister Rebecca Pow is urging governments around the globe to join the 30by30 initiative. This initiative, led by the UK, aims to protect at least 30 per cent of the planet's oceans by 2030.
Speaking at the launch of an animated film created by Greenpeace, which depicts endangered marine life, the minister spoke passionately about the affects of climate change on the world's oceans, stating that "those of us who can help must step up to support the ocean to adapt to climate change."
The minister continued: "Our government is already rolling out nature-based solutions to tackle it, for example our work to maintain and enhance 20,000 hectares of mighty mangroves in Madagascar, Indonesia, Latin America, and the Caribbean.
But change requires collective effort. That's why we're calling for at least 30 per cent of the world's ocean to be safeguarded by Marine Protected Areas in the course of this decade."
The government has asserted that increasing the range of Marine Protected Areas is crucial to reducing the impact of climate change, adding that marine protection targets need to be higher, as the current ten per cent targets do not provide adequate protection against biodiversity loss.
At the forefront of marine protection, the UK has recently designated 41 new Marine Conservation Zones (MCZs), covering 12,000 square kilometres, for a total of 91 MCZs. This means that now more than 40 per cent of English waters are designated as marine protection areas.
The UK is encouraging all countries to join the Global Alliance announced by the Prime Minister last year, in support of the 30by30 target as part of a new global biodiversity framework in October 2020.
Defra has also released a new video on the urgent need for global action on ocean protection, narrated by musician and activist Sting and screened at the Greenpeace event.