Colchester Zoo announces birth of white rhino calf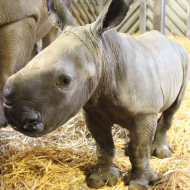 Birth of healthy female captured on CCTV

Colchester Zoo has announced that Emily, one of its white rhinos, has given birth to a healthy female calf. This is Emily's third calf and is also the fifth to be born at Colchester Zoo as a part of its breeding programme for white rhinos.
The calf was born on Saturday 4 January after a pregnancy lasting 16 months and eight days. The mother was kept under constant CCTV surveillance during her pregnancy so that zoo staff could be on hand as soon as she went into labour.
The birth went smoothly for both mother and calf. The calf took a while to find its feet but was up and walking within a few hours and is feeding well. According to the animal care team's statement, Emily is 'an experienced mum and so is taking it all in her stride.'
Mother and calf will now be housed in the indoor area of the rhino house with occasional access to the outdoor hardstands on warmer days. The as yet unnamed calf will gradually be introduced to the rest of the herd as well as the other animals housed in the Kingdom of the Wild enclosure.
White rhinos are listed as Near Threatened on the IUCN Red List due to poaching and the ivory trade, and so this birth marks a positive advancement for white rhino conservation efforts.
In the early 1900s only around 20 southern white rhinos remained in the world, but sustained protection and breeding programmes like this one have led to a boost in the population. There are now more than 11,000 white rhinos in the wild and nearly 800 in zoos.
Image (c) Colchester Zoo