Rise in heartworm cases prompts warning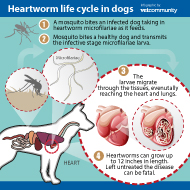 Number of infected imported dogs 'likely to increase'

A reported rise in enquiries about heartworm in dogs has prompted a warning about rescue dogs being imported to the UK.

ESCCAP UK & Ireland says there have been five heartworm cases in the past four weeks, not just in dogs from endemic countries in Europe, but also the US, Mauritius and Brazil.

Head of ESCCAP Ian Wright said veterinary professionals should be vigilant for exotic parasites in imported animals.

He explained: 'The increased numbers of dogs imported from Southern and Eastern Europe combined with the parasite spreading through Eastern Europe means that numbers of positive imported dogs are only likely to increase over the coming months and years.

'Veterinary professionals need to be vigilant for exotic parasites entering the UK in imported dogs. This spike in heartworm cases is another example of the wide range of pathogens that might be encountered and the increasing risk to individual pets and owners as well as wider UK biosecurity as a result.'

Concerns over imported disease have been growing since the Pet Travel Scheme rules were relaxed in 2012.
Cases of imported disease over the past two years include babesiosis, canine ocular thelaziosis, tongue worm and Brucella canis. In March this year, there was also a confirmed case of leishmaniasis in an untravelled dog, which is thought to have contracted the disease from an imported dog.