Rescue dog gets emotional support pug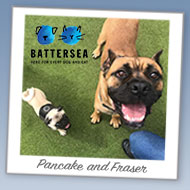 Pancake proved to be the perfect companion for timid Fraser

A large rescue dog once too scared to leave his kennel is brimming with new-found confidence thanks to a little pug called Pancake.

One-year-old Fraser found himself at Battersea Dogs & Cats Home after a change in circumstances. But his stocky build, cropped ears and docked tail meant that many prospective owners found him intimidating.

But Fraser was a very timid dog, too scared to leave his kennel, even for a short walk. That was until he met six-month-old pug Pancake, who had been adopted by Battersea's canine behaviourist Elizabeth Kidd.

Battersea staff had tried everything they could to get Fraser to come out of his shell, so they decided to introduce him to another dog. With her confident nature and playful personality, Pancake proved to be the perfect companion.

"Although Pancake and Fraser didn't appear to be the most likely pairing, it was heart-warming to see how well they got along," said Elizabeth. "Little Pancake really taught Fraser how to be a brave dog and be more confident in himself." 

Thanks to the help of Pancake, Fraser has gained so much confidence that he is now ready to find his forever home. Battersea said that he is looking for a family that has plenty of other dogs to keep him company, as this is something he truly benefits from.

"Fraser really thrived in his friendship with Pancake; helping him to come out of his shell," Elizabeth continued. "Some nervous dogs in a kennel environment may find a friend beneficial. Where appropriate we pair less confident dogs up with those who are more resilient and cope well with new environments, like our kennels. 

"Alongside other tailored behavioural and training support, this can be an additional way to help them feel comfortable whilst with us."
Image (C) Battersea Dogs & Cats Home.