Chimps bond after watching films together - study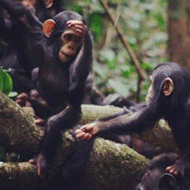 Bonding through shared experience may have deep evolutionary roots

Chimpanzees who watch films together bond in a similar way to humans, according to new research.

Until now, scientists believed that connecting with others was a uniquely human experience. But new research led by Duke University has revealed that apes are also able to create social closeness by participating in group activities.

In the study, chimpanzees, bonobos and humans were put into pairs and shown a short film. The film was of a young chimpanzee playing with its family - footage shown by previous research to capture the attention of great apes.

Each participant sat in a booth and looked through a screen towards a PC showing the video. An eye tracker was used to check the participants were watching the film while a tube filled with grape juice encouraged them to sit still. Once settled, the experimenter could enter the room.

After the film, the team measured how long the participants spent in each others proximity and the time engaged in interactive behaviours. They found that both chimpanzees and bonobos approached their partner faster after having watched a video with them.

'Our results suggest that one of the most basic mechanisms of human social bonding—feeling closer to those with whom we act or attend together—is present in both humans and great apes, and thus has deeper evolutionary roots than previously suspected,' the researchers conclude.

The study, Visually attending to a video together facilitates great ape social closeness, is published in Proceedings of the Royal Society B.