Niall Connell welcomed as new RCVS president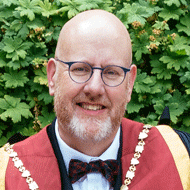 Role models 'key to encouraging diversity in the profession'

Incoming RCVS president Niall Connell has emphasised the importance of good role models to inspire young vets and encourage diversity in the profession.

In his inaugural speech as president for 2019-20, Niall quoted US children's rights activist Marian Wright Edelman on the importance of role models for diversity, saying: "It's hard to be what you can't see".

Speaking at the annual Royal College Day on Friday (12 July), Niall commented on his own role model, Alf Wight - who, like him, came from a working class background in Glasgow.

"He grew up in North Glasgow and his dad was a plater in a Glasgow shipyard," he said. "I was born in the East End of Glasgow and my grandfather and great-uncle were platers at John Brown's on the Clyde.

"We can all benefit from having role models throughout our lives, but children in particular need them most. We should be encouraging diverse role models into schools, to improve awareness of our professions and help inspire youngsters from all backgrounds."

Niall officially became president at Royal College Day, taking over from Amanda Boag, who is now senior vice-president of the college.

A 1982 graduate of Glasgow Vet School, Niall and a career in small animal practice, which included managing the PDSA Petaid Hospital in East Glasgow for 15 years. In 2003 he was diagnosed with multiple sclerosis and took ill-health retirement in 2009. Since then he was been an elected member of RCVS Council since 2013 and works as a clinical and professional skills instructor at Glasgow Vet School.

Commenting on his aims for his presidential year, he said the college needs to improve, support and protect diversity in the workplace and "not be afraid to call out things that are not right or safe for any individual". He said he will continue to chair the new RCVS Diversity & Inclusion Group to break down barriers to selection, recruitment and selection, encouraging more ethnic and social-economic diversity in the professions.

Other priorities will include continuing the work of the Graduate Outcomes project to better understand how to support young vets, working with BVA and Defra on Brexit preparations, continuing to look at the role of RVNs and other paraprofessionals and carrying out the college's pending rewove in 'under care' and 24/7 cover.

Image © RCVS