New road sign to protect small wildlife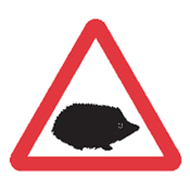 Transport secretary Chris Grayling has unveiled a new road sign to help cut traffic accidents and protect small wildlife, particularly hedgehogs.

Local authorities and animal welfare groups are being asked to identify accident and wildlife hotspots where the sign - which features a hedgehog - should be located.

Government figures show that more than 600 people were injured in road accidents involving animals in 2017, and four people were killed. These figures do not include accidents involving horses.
The new sign will be used to warn motorists in areas where there are large concentrations of small wild animals, including squirrels, badgers, otters and hedgehogs.