Horse racing cancelled after equine flu outbreak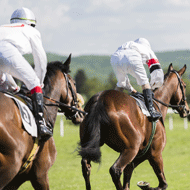 Concern after three cases confirmed in vaccinated horses
Horse racing on all British racecourses has been cancelled today (7 February) after an outbreak of equine influenza among vaccinated horses.

The Animal Health Trust (AHT) confirmed three positive cases in horses at an active racing yard.

According to the British Horseracing Authority, which took the decision to cancel today's racing, horses from the infected yard raced at Ayr and Ludlow yesterday, potentially exposing a significant number of horses from yards across the country and in Ireland.

In a statement, BHA said the fact that cases were seen in vaccinated horses 'presents a cause for significant concern over welfare and the potential spread of the disease'.

The outbreak follows reports of a number of cases across Europe and the UK, including several in vaccinated horses.

Work has been done to identify which yards could have been exposed yesterday and to take necessary actions. BHA is communicating with yards to ensure quarantine and biosecurity measures are put in place, as well as restricting horse movements to avoid possible further spread of the disease.

The full extent of potential exposure is currently unknown but BHA said it is working quickly, alongside AHT, to understand as much as possible. Any trainer with concerns about the health of their animals should contact their vet.