£3.5m funding given to global wildlife projects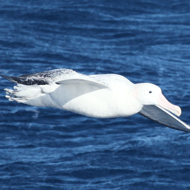 Darwin Plus awards funding to 17 schemes in UK Overseas Territories

Rare species and iconic landscapes around the world will receive protection through the UK government, after £3.5 million was awarded to 17 innovative projects.

The Darwin Plus initiative is awarding funding to a diverse array of projects in UK Overseas Territories - from radar tracking albatrosses in the south Atlantic, to protecting wetlands in the Caribbean and monitoring drivers of change in the Akrotiri wetlands on Cyprus.

Minister of state for the Overseas Territories, Lord (Tariq) Ahmad of Wimbledon, said: "The UK's Overseas Territories have some of the world's most pristine waters and natural environments, from the polar regions to the Pacific, and we are committed to doing all we can to preserve them.
"This funding will help conservation projects continue their good work, boosting protections for wildlife in areas including the Atlantic and the Caribbean and supporting sustainable livelihoods which will preserve our precious environment for future generations."

Professor Stephen Blackmore, chair of the Darwin Plus Advisory Group, added: "The range of the projects funded by Darwin Plus in our UK Overseas Territories shows how we can effect change and better support and protect nature around the globe.
"I am proud that we are delivering Darwin Plus funding to benefit animal and plant species and their habitats, which are vital to humanity's economic and social development."
Image © Liam Quinn/CC BY-SA 2.0/Wikimedia Commons