Lifespan 'may be reduced by up to 2.5 years in overweight dogs'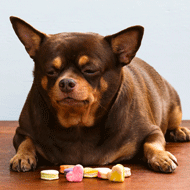 Study looks at links between weight and longevity

New research suggests that the lives of overweight dogs may be shortened by up to 2.5 years.

Published in the Journal of Veterinary Internal Medicine, the retrospective study looked at more than 50,000 middle aged neutered dogs that attended around 900 veterinary hospitals in North America.

Dogs of 12 different breeds, aged 6.5 to 8.5 years were categorised as 'overweight' or 'normal'.

The findings suggest that, in all breeds, the instantaneous risk of death was higher in overweight dogs, while the median life span was shorter. The greatest impact on life span was seen in Yorkshire terriers - dogs of a normal weight lived 2.5 years longer on average than overweight dogs. Meanwhile, the lifespan of an overweight German shepherd was found to be four months shorter.

Co-author Professor Alex German, of the University of Liverpool, commented: "Owners are often unaware that their dog is overweight, and many may not realise the impact that it can have on health.
"What they may not know is that, if their beloved pet is too heavy, they are more likely to suffer from other problems such as joint disease, breathing issues, and certain types of cancer, as well as having a poorer quality of life. These health and wellbeing issues can significantly impact how long they live.

"For many owners, giving food, particularly tasty table scraps and tidbits, is the way we show affection for our pets. Being careful about what you feed your dog could go a long way to keeping them in good shape and enabling them to be around for many years to come.

"Worryingly, it is estimated only one in five pet owners always measures how much food they are giving their pet, with four in five (87%) always or often simply estimating the amount of food they think their pet needs at each serving."