Chanel ends use of fur, crocodile and exotic skins in fashion products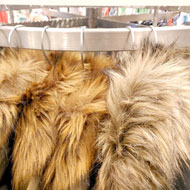 Luxury fashion house joins growing number of retailers in more ethical production choices
Chanel are the latest retailer to announce that they will stop using fur, crocodile leather and other exotic skins; explaining that it is becoming increasingly difficult to source materials that meet their ethical standards.
"No more Croco for Coco" was the chosen adage at the presentation of the fashion house's new collection at the Metropolitan Museum of Art in New York.
Over 100 million animals are killed by the fur industry every year. Over 950 retailers worldwide have so far signed up to the Fur Free Retailer programme including high-profile brands such as Gucci, Versace, Zara and asos. The Fur Free Retailer allows consumers to check if a brand uses fur in their products.
Thomas Pietsch, a wildlife expert at FOUR PAWS animal welfare, commented: "Chanel's announcement shows that ethical consumption and animal welfare have also gained in importance for luxury fashion labels. Instead of real fur or exotic skins, today's consumers want sustainability and innovation. We are confident that this forward-thinking decision by Chanel will be imitated by other leading high fashion companies."