Northern Ireland's TB status could be helped by new Actiphage test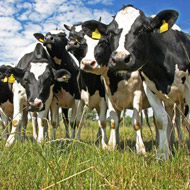 DAERA urged to take all relevant steps to improve current TB testing in Northern Ireland

PBD Biotech, a UK-based diagnostic technology company, has developed a new bovine TB test which could help the TB status in Northern Ireland.

Actiphage, a rapid diagnostic test, directly detects and identifies the bacteria responsible for causing TB infection. This is different from other TB tests which rely on an immune response. Trials of Actiphage have consistently confirmed the test's ability to detect the bacteria in both milk and blood at less than 10 cells per sample.

Yesterday's (27 November 2018) Northern Ireland Audit Office Report concluded that all relevant steps to improve the current bovine TB testing regimen in Northern Ireland should be taken by the Department for Agriculture, Environment and Rural Affairs (DAERA).

In October 2018, DAERA met with PBD Biotech to explore how the Actiphage test could be incorporated into their TB eradication programme.

Commenting on yesterday's Audit Office Report, Dr Berwyn Clarke, PBD Biotech's chief executive, said: "It is vital that this hidden reservoir of infection is eradicated; otherwise, all other interventions will have very little benefit. And the unreliability of the tests cast doubt on whether TB-free status is genuinely the case."

Actiphage has already been included in the UK Government's 'exceptional private use' policy for chronic TB breakdowns in England. This development was guided by Actiphage's field validation during studies performed by farm animal vet, Dick Sibley. Sibly previously helped to clear a dairy herd in Devon that had been infected with TB by integrating Actiphage into a disease management programme.