Pets at Home earmarks 30 practices for closure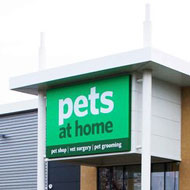 Company's profits fall by 80 per cent, financial report reveals

Pets at Home could be set to close 30 of its joint venture practices, amid profit losses of more than 80 per cent.

The firm's latest interim financial report reveals that first half profits fell from £40.8 million to £8 million, largely owing to charges of £29 million that relate to vet business restructuring.

Pets at Home will offer to buy back and consolidate 55 out of the 471 practices. Of these, 25 will be operated as company managed practices, while the remainder may close.

CEO Peter Pritchard, who has led the company since May, commented: "Reviewing our Vet Group has been a priority. I recognise we have grown at pace and more recently, have seen the pressure that rising costs and our fees are placing on this young business.

"We will need to recalibrate the business to deliver more measured growth, whilst maintaining our plan to generate significant cash profits.

"We are focused on maximising our unique assets and delivering a plan for sustainable cashflow and profit growth. Given the success of the changes we have made in Retail, I'm confident we can do this."
Equity analyst Nicholas Hyett, of Hargreaves Lansdown stockbrokers, told Sky News the move represents a major shake-up "as the vets' partners struggle to make sufficient money to pay Pets' fees and still take home a decent wage themselves".
He added: "That's partly due to factors outside Pets' control. A decline in the number of EU vets in the UK is putting pressure on salaries and also making it more difficult to find new partners."
Image © P L Chadwick (CC BY-SA 2.0)