Brexit trade deals 'biggest risk to animal welfare'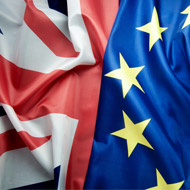 Expert panel says imports must meet UK's high welfare standards
Post-Brexit trade deals are the greatest threat to animal welfare, experts warned during a fringe event at the Conservative party conference.

The event, hosted by the RSPCA, saw an expert panel debate the future of higher welfare farming and British agriculture post-Brexit.

Agricultural experts warned that the government's commitment to welfare in farming could be undermined if we do not insist on the same standards when striking international trade deals.

Vice president of the National Farmers Union, Stuart Roberts, said: "It is one thing to have the highest standards domestically in the UK but we have to use those same standards and ethics when it comes to future trade deals. Because otherwise all we'll do is give politicians and consumers the opportunity to export their consciences."

RSPCA's head of public affairs David Bowles added: "The biggest risk to animal welfare post-Brexit would be the wrong kind of trade deal - or no trade deal at all. Ensuring animal products that are imported to the UK meet our high welfare standards must be a priority not just for animal welfare reasons but also to protect the integrity of UK food and the commercial viability of UK farming."

Agriculture minister George Eustice confirmed the government's commitment to protect UK animal welfare standards in any future trade deals. He also revealed that the new Agriculture Bill, which has a second reading on 10 October, will contain provisions for animal welfare payments to incentivise farms. Animal welfare pilot schemes will start in 2020 and could be given priority funding.

Mr Eustice said: "The way we treat animals is the hallmark of a civilised society … we won't give up or change our standards in pursuit of a deal."

The panel also agreed that consumers must be empowered to make better decisions about the meat and animal products they buy. They welcomed the definition of animal welfare as a public good, as well as the holistic approach to food production, animal health and welfare in the upcoming Agriculture Bill.