Bluetongue detected in imported cattle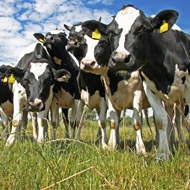 Movement restrictions in place at affected premises
The BVA is urging vets, farmers and government agencies to be vigilant after two imported cows tested positive for Bluetongue virus (BTV8).

On Monday (24 September), Defra announced the disease was successfully picked up in two cattle that had been imported from France through post-import testing. The APHA and the Pirbright Institute identified the disease in the animals when they were brought to Yorkshire from an assembly centre in central France.

Defra reports that the two cattle were isolated and have been humanely culled, adding that movement restrictions will remain in place on the premises 'for at least several weeks'.

Commenting, BVA senior vice president John Fishwick said: "We are reassured to see that the systems we have in place for post-movement testing have led to this disease being detected quickly, and appropriate action has been taken to safeguard animals in the area.

"However, this should act as a reminder that farmers, vets and government agencies must remain vigilant to the threat of disease spread. All livestock keepers should be reminded of the vital importance of responsible sourcing of animals, and of fully understanding the potential disease risks of importing from areas where disease is known to be circulating.

"Farmers should always consult their vet and act within their farm health plan when sourcing new animals. They should also discuss options such as vaccination as one of the main methods of disease control.

"Vets play a key role in animal health and disease monitoring in the UK and BVA will continue to work collaboratively with the UK Governments and the profession to modernise and enhance the UK's disease surveillance networks across all species."

Transmitted by midge bites, bluetongue can infect all ruminants, causing sickness, reducing milk yield and diminishing reproductive performance. In the most severe cases, the disease can be fatal.

Symptoms include nasal and eye discharge, drooling, swelling around the head or mouth, lethargy and lameness. Bluetongue does not affect humans, and meat and milk from infected animals are safe to consume.

Bluetongue is a notifiable disease and any suspicions must be reported immediately to the APHA and regional Field Services Offices in Scotland or to DAERA in Northern Ireland. For further advice on Bluetongue, contact the Defra Helpline on 03459 335577.