Two further Asian hornet sightings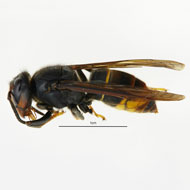 'No evidence' to suggest Hull and Cornwall sightings linked

Surveillance activity is underway after two further sightings of Asian hornets in Hull and Liskeard, Cornwall.

The news follows a recent sighting in the Fowey area of Cornwall. APHA's National Bee Unit subsequently identified and destroyed the nest.

Asian hornets pose no greater risk to human health than a bee, but they are a serious threat to honey bees.

Defra says there is no evidence at this stage to suggest the sightings in Cornwall and Hull are linked. Work is underway to identify and destroy the nests.

Bee inspectors from the National Bee Unit are carrying out surveillance and mentoring within a 1-2km radius around the sightings.

Nicola Spence, Defra deputy director for plant and bee health, said: "These sightings in Liskeard and Hull underline the need to remain vigilant.
"I want to encourage people to look out for any Asian hornet nests and if you think you've spotted one, please report your sighting through the Asian hornet app or online."

Asian hornet sightings should be reported using the Asian Hornet Watch app or by email: alertnonnative@ceh.ac.uk
Image © Defra