First liquid solution for hypertension in cats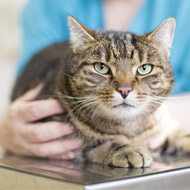 Easy-to-give solution for pet owners and vets

The first liquid solution for feline hypertension has been launched by Boehringer Ingelheim.

In a press release, Boehringer Ingelheim said that Semintra 10 mg/ml Oral Solution 'provides a new, well-accepted and easy-to-give liquid formulation, making management of feline hypertension easier for cat owners and veterinarians'.

"We are proud to continue to set new standards of care for cats to optimise their health and well-being through the veterinarian," said Shawn Hooker, global head of strategic business unit pet vet at Boehringer Ingelheim.

"Early disease detection and early treatment are key to ensure cats live longer and happier lives. With Semintra we offer a pet owner-friendly, easy-to-give solution to help raise the quality of life of cats with hypertension while providing reliable long-term blood pressure control."

The approval of Semintra as a veterinary medicine for the treatment of feline systemic hypertension follows marketing authorisation in the EU. It will be launched in a number of countries during September 2018.
Further information about Semintra can be found on the European Medicines Agency website.