Researchers transplant lab-grown lungs into pigs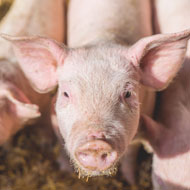 Study offers hope for humans living with severe lung disease

Researchers at the University of Texas Medical Branch (UTMB) have successfully transplanted genetically-engineered lungs into adult pigs.

Writing in Science Translational Medicine, researchers describe how they created the lungs using a 'support scaffold' and that all of the pig recipients stayed healthy - some for up to two months. They also note that just two weeks after transplantation, the lab-grown lungs established a strong network of blood vessels which is essential for the lung to survive.

"We saw no signs of pulmonary oedema, which is usually a sign of the vasculature not being mature enough," explained study authors Joan Nichols and Joaquin Cortiella. "The bioengineered lungs continued to develop post-transplant without any infusions of growth factors, the body provided all of the building blocks that the new lungs needed."

In the study, researchers treated lungs from unrelated animals with a concoction of sugar and detergent. This process removes all of the blood and cells in the lung, leaving only the scaffolding proteins - or the lung's skeleton - behind.

The team placed the lung scaffolds into tanks filled with a mixture of nutrients, before carefully adding the animals' own cells. The bioengineered lungs were then grown in a bioreactor for 30 days prior to transplantation. Pigs that received the lungs survived for 10 hours, two weeks, one month and two months after the procedure.

Nichols explained that the study's aim was to ascertain how well the bioengineered lungs adapted and continued to mature within a living body. The team did not, however, analyse how much they provided oxygen to the animal.

"We do know that the animals had 100 per cent oxygen saturation, as they had one normal functioning lung," said Cortiella. "Even after two months, the bioengineered lung was not yet mature enough for us to stop the animal from breathing on the normal lung and switch to just the bioengineered lung."

Future research will now focus on long-term survival, the maturation of tissues and gas exchange capability. The team are confident that with enough funding they could grow lungs to transplant into people in as little as five to 10 years.